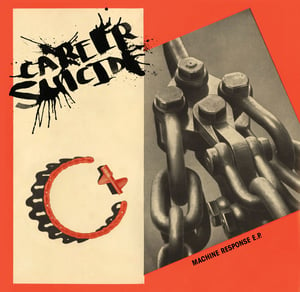 $

7.99
Pre-Order the Machine Response EP.
**Note: there is a strict limit of 5 copies total per order.**
This is a new 4 song EP that the band has recorded and self-released.
The tracks on this new EP are...
Machine Response
Row on Row
No Sleep
Kill the Warden (originally by Meccallisa, 1979)
1,000 copies are being pressed for the upcoming December 2016 UK/Europe tour, but 250 are being set-aside for mailorder.
The 250 mail-order copies will be shipped before the end of February from the US. For cheaper European shipping, there will be 100 or so copies available for order from the UK --details will be available on that in January.
We're trying to keep costs down on this thing, but it's proving to be logistically impossible. Covers are being printed in 2 continents, the records are being pressed in the UK, but need to be shipped first to Canada, then again to US. If you'd like to save yourselves some money, we suggest just holding off until the record inevitably gets issued on a REAL label in the new year.
**Again, please note: there is a strict limit of 5 copies total per order.**